---
Spring C Jackson, Childcare Consultant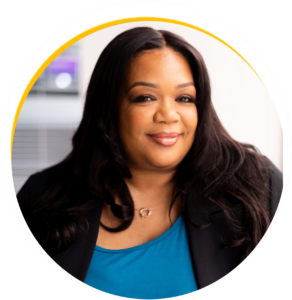 Spring C Jackson is an Entrepreneur, Childcare Consultant, Published Author, and Speaker. She is the owner and CEO at Kingdom Kids Childcare, LLC, and Spring C Jackson Childcare Coach Consultant.
Affectionately known as "Mootie," Spring is incredibly involved in the care and education that is provided every day to the children in her childcare. Ms. Jackson has years of experience in the childcare arena. She began her career as an early childhood and school age professional in 2003 and then just a year later transitioned to an in-home childcare provider. A role she played for 6 years before transitioning to start her own childcare business - Kingdom Kids Childcare. The Kingdom Kids program is designed to provide a home away from home experience for children and families. This ensures that kids are cared for, kept safe, and loved on like they would at home.
She is also passionate about foster care. Previously having been a foster parent and foster care recruiter for ethnic families. In fact, her experience in the foster care system inspired the plan to start a non-profit for difficult to place children within the foster system.
She has extensive training in childcare and a holder of CDA in childcare. Ms. Jackson is currently exploring expansion plans to create a network of Kingdom Kids branches across the United States through ownership and franchising. In addition, she is looking to launch her consultancy to help current or potential childcare owners to start and scale their childcare businesses.
A trailblazer in her own right, Ms. Jackson is a believer of going where there is no path and leaving a trail. She lives by the mantra 'If only to be different'- a guiding principle that embraces originality and authenticity in all things.
Ms. Jackson is the author of the book 'I Rise, Living Beyond the Bruises,' a book depicting her life story where she aims at showing others how they can overcome the fear that keeps them bound, while nudging them on in the journey to fulfill their life's purpose. In 2021, Spring wrote her first of a series of children's books, New Kid in the Kingdom. The first two will cover a child challenged with being the "new kid" and a child experiencing the milestones children achieve prior to preschool graduation and future educational opportunities. By valuing and talking about the possibility of continued education, it becomes more attainable for all children. Education is so important- it opens the door to many possibilities.  These books will help families have conversations about their emotions about being in a new place as well as educational options. We will be proud to offer these books to each of our incoming children and Preschool graduates as special help and reminder of their time at Kingdom Kids Childcare.
With eyes firmly fixed on her mission of transforming lives one child at a time, Ms. Jackson strongly believes that a functional and productive society stems from stable childhood. She knows this too well as a loving mother of three adult children.
---
Message from the President & CEO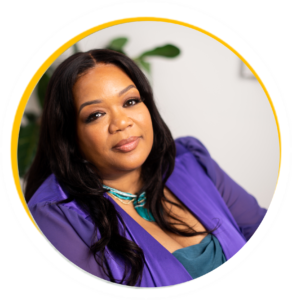 "Every day, I know that all the children in my facility are getting excellent quality of care and education. The early childhood years are the foundation for all future leaders. I strive to influence the Directors of my facilities to be successful in business and support them as they operate all the needs of a childcare business. I understand and honor the balance between family, friends, work, and continuing education. With 15 years of experience in the early childhood profession, I respect the roles of my team.
My absolute passion is children. I constantly study child development and child behavior.
I sincerely thank you for choosing Kingdom Kids Childcare as your choice for your child's care and education. My teachers, staff and administrative team are honored to be a part of your child's educational experience and a part of your family.
You may contact me anytime at executivedirector@kingdomkidscare.com
Spring C Jackson

CEO, Executive Director